Illustration by Charles Bragg

LA'S THE PLACE

lastheplace.com

Posted By Katie Barnes

The play is excellent- the cast have the accents, camaraderie and seamless execution of their parts that makes the pub environment palpable, leaving little between the audience's imagination and the tangible experience within a "real" Irish stomping ground. Tim Byron Owen has magically blurred the line of comedy, fable and pantomime, setting the tone of the room so succinctly that one could be mistaken for thinking they are part of the action. Using a group of 24 seasoned theatre professionals in the all-male cast, the evening's performance proved to be some of the finest two hours in LA theater. Yet the spotlight seemed built for Pat Harrington, one of the most gifted and generous performers seen to grace the stage. This must-see show is not just a chance to catch a bit of Bradbury but a view toward the Irish having more than a clue as to what makes life the very best.

LOS ANGELES JOURNAL

losangelesjournal.com

The all male cast's singing and musical interlude preceding the curtain's figurative rise certainly sets the mood – talk about "getting into character"!  I enjoyed the wit and wisdom, as well as its music and dancing, of Falling Upward, which is deftly directed by Tim Byron Owen. The cast is quite good,

ACCESIBLY LIVE OFF-LINE

Your Low-Tek NewsTM

Week of September 10th, 2007

Vol. 12-No. 37

Rich Borowy

This charming tale,  is Ray's loving tribute to the Emerald Isle;  The passion of Ireland never left him and still speaks about this land as if it was an old friend. Consisting of a few short stories woven in, it makes this production that is green as the mother country, and black as a tall glass of Guiness. In other words, it's very "colorful", it's full of wit, charm, and has plenty of life-now and for the hereafter! After experiencing FALLING UPWARD, one will wish that they too were Irish! Even if one really had a li'l Irish in 'em, that is all the better!   Another round is ready and waiting!

REVIEW PLAYS

reviewplays.com

Review by Carol Kaufman Segal

It is just good fun because the actors are so at home in their

characterizations, there is humor in the production and it is just plain good entertainment. The entire company is perfectly cast, each one very realistic, as they delight us with their perfect Irish brogues, their singing of Irish folk tunes, and even a wee bit of an Irish jig.

THE LOS ANGELES TIMES

Review by F. Kathleen Foley

"Recommended" ... director Tim Byron Owen and his able cast create a microcosm so welcoming and lovingly detailed that we want to belly up to the bar and join in the fun."  Heeber Finn's is a boy's only club, where no woman ventures and the blarney flows freely on tap, as does the wonderful Irish music – no jukebox required.  The emphasis is on atmosphere, and director Tim Byron Owen evokes this particular time and place with an attention to detail as loving as it is rigorous. If you long for Ireland but can't get there, a bracing visit to Heeber's may satisfy your craving.

EYE SPY LA

Ray Bradbury creates a loving postcard from his year in Ireland 50 years ago.  There are songs beautifully sung and stories stirringly told. Representatives of the whole town, from the Lord to the idiot, the priest and the doctor, and all the commoners make their way to Heeber Finn's bar, The large cast appears remarkably at ease, from the songs and patter that greet the audience before the show and through a series of scenes from a village "Bradbury and the company, under Tim Byron Owen's fluid direction, bestows an abundance of love through the script and the performances, and the audience's endless laughter and clapping showed that the love was received and returned."...

Reviews for "Falling Upward"

KAYTE'S LOS ANGELES TRAVEL BLOG

By Kayte Deioma, About.com Guide to Los Angeles Travel

Bradbury's Falling Upward at the El Portal Theatre

Sunday March 1, 2009

"Himself" came out to see Tim Byron Owen's new interpretation of his comedy Falling Upward at the historic El Portal Theatre last night.  Ray Bradbury, that is.  ... (More)
LA WEEKLY - GO! ... pick of the week

By Lovell Estell III

"Falling Upward"

...this charming, comedic fable, where a raucous, fun-loving band of Irishmen gather to spin yarns, dance jigs, play music, sing and of course, "wash their tonsils."

The music is superb; Jeff G. Rack's tavern set is artfully crafted, and director Tim Byron Owen creates an atmospheric charm that's irresistible. ...  (More)
LA THEATRE EXAMINER

"Falling Upward"

Storytelling and Celtic music, two of Ireland's greatest contributions, are at the heart of this show.

Leading the stellar all-male ensemble with charm and humor is Emmy®, Golden Globe winner, is Pat Harrington.

Anyone yearning for a glimpse of the Emerald Isle, circa 1950, will be delighted by "Falling Upward".

STAGEHAPPENINGS.COM

By M. R. Hunter

"Falling Upward"

What ties this loosely crafted plot and its goodwill twist is the light and the laughter interspersed with live, jauntily played music and a loving specificity paid to each character until they too lose their strangeness and become our own.... Like an impressionistic painting, it is best enjoyed and understood in its totality, the mood it evokes...

REVIEWPLAYS.COM

By Jose Ruiz

"Falling Upward"

...the entire play is filled with humorous touches and lots of music.  Many of the actors play instruments, sing and even dance...

It's an evening when one can forget the current travails of modern life and immerse the soul into a land that once was simple and time was never in a rush. ...  (More)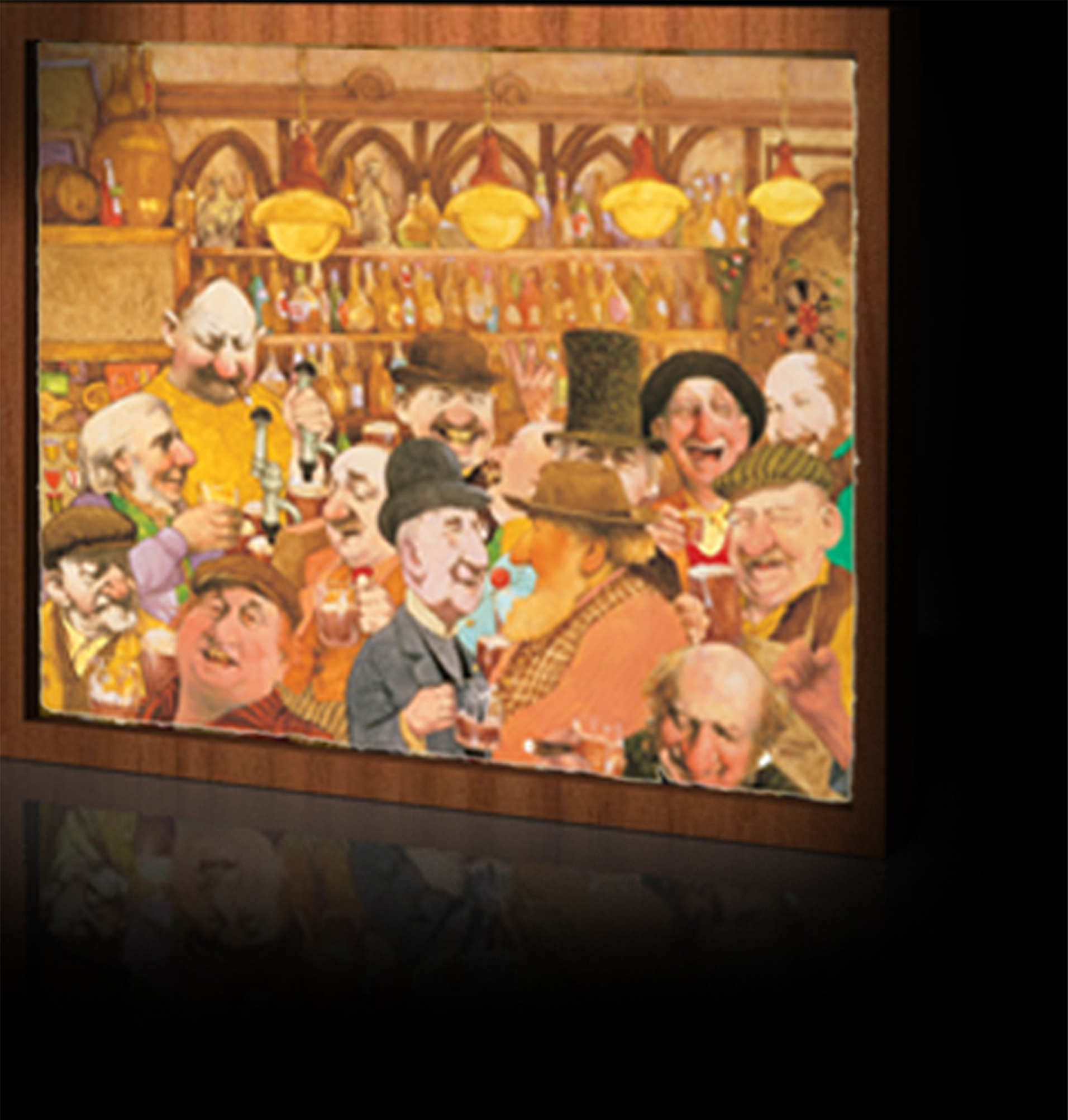 LOS ANGELES TIMES - CRITIC'S CHOICE

By David C Nichols

"Falling Upward" at El Portal Theatre

Tuesday, March 3, 2009

....director Tim Byron Owen and a large, resolute ensemble headed by Pat Harrington give this Gaelic crowd-pleaser their brogue-laden all, ... valiantly brings this mood piece to life. ... (More)