Illustration by Charles Bragg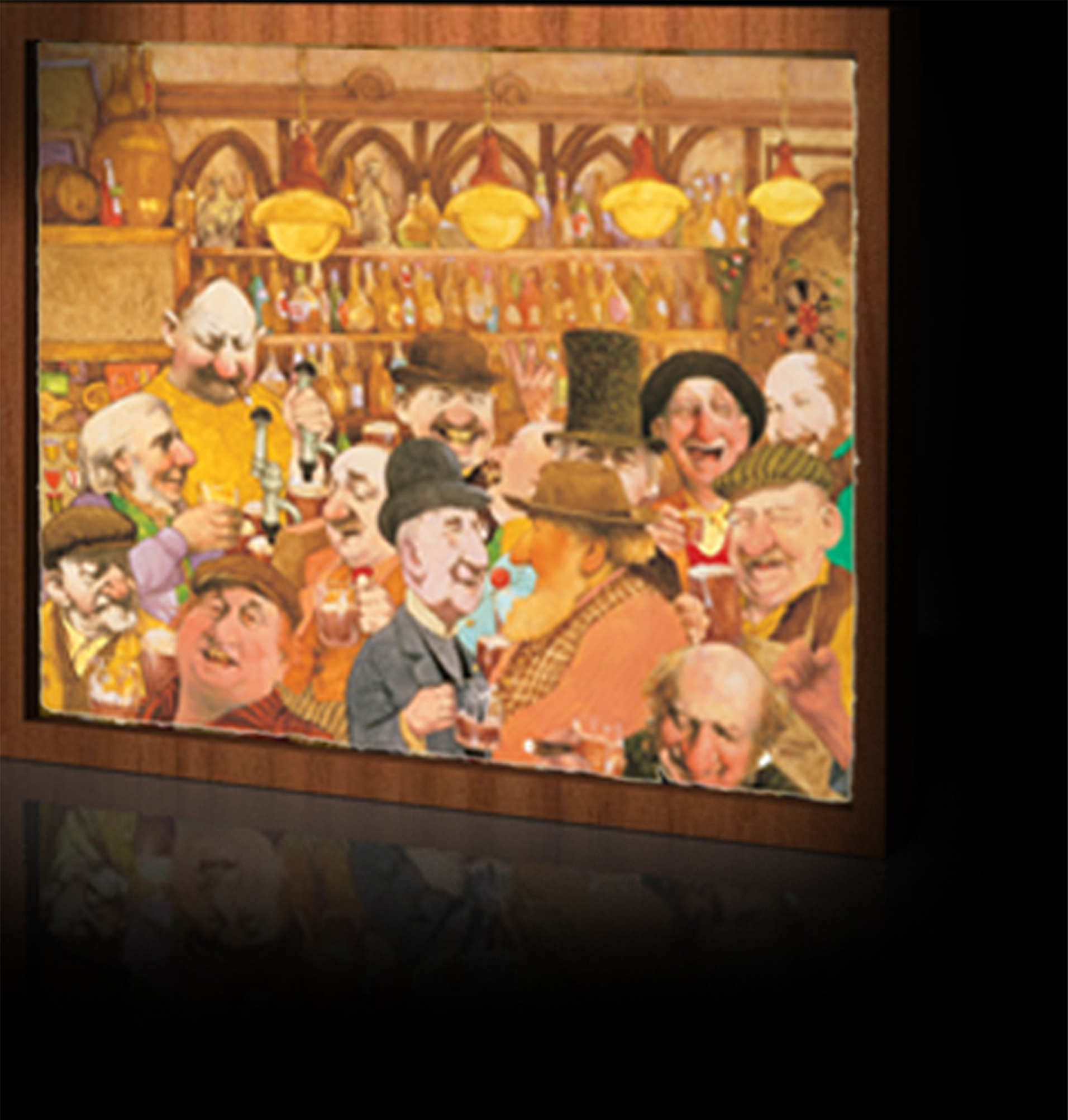 In 1953, Ray Bradbury spent the year living in Ireland writing the screenplay "Moby Dick" for film director John Huston.  Ray's nights were spent soaking up the local pub culture. Upon returning to America, he was moved to write about the characters he met at his favorite pub, which became the impetus for his book "Green Shadows, White Whale," and later the play, which debuted in 1988 at the Melrose Theatre, directed by the late Charles Rome Smith.

"The craic is mighty" for the lads at Heeber Finn's pub, in the village of Kilcock, County Kildare, Ireland!  "Falling Upward", relates the adventures and misadventures of these lads, as told by Ray Bradbury.
These boyos team up to save the victims of a horrible traffic collision, make book on their favorite entry in a sprinting competition, and stage a bold rebellion at the local Anglo-Irishman's funeral! But the biggest challenge for the lads, arrives with a band of dark, flamboyant travelers who've come to Ireland for mysterious reasons.  There's something queer about these strangers, and the lads at Heeber Finn's are forced to confront them, ….as well as themselves!


In 2001, "Falling Upward" opened at Theatre West and at the Falcon Theatre, where it set then-records at the box office.  In 2007, in a two-week special engagement with rave reviews and sold out performances at Theatre West , the work's new and current director Tim Byron Owen, significantly reimagined and reinvented the piece, with a new emphasis on the essential Irishness of the play's environment and characters over the progression of the narrative's events. Characters are portrayed in an entirely new way, and the audience is engulfed in the sound of traditional and contemporary Irish songs from the moment it enters the auditorium. It is Owen's new interpretation of "Falling Upward" (crafted with Mr. Bradbury's delighted approval) that a new team of producers brings to the El Portal.

In this new production, Garrity is portrayed by Pat Harrington.  The star of Broadway, movies and regional theatre is best known and loved by millions for his comic creations on television, including Dwayne Schneider on "One Day At A Time" and Guido Panzini on "The Jack Paar Show" (57 guest appearances). He was also a regular with Steve Allen, "The Danny Thomas Show" and "Owen Marshall: Counselor At Law." His films include "Easy Come, Easy Go" (with Elvis), "Move, Over, Darling," "The President's Analyst" and "The Candidate."  His L.A. theatre credits include "The House of Blue Leaves," "Love Letters," "Blackout," "The Pajama Game," and "Harrington and Storm." He is the recipient of the Emmy®, Golden Globe and Drama-Logue Awards.

Also in this cast of "Falling Upward" will be Abbott Alexander, Atotesfaye Abdu-Hakim, Walter Beery, David Evans Brandt, Roger Cruz, Tom DeBone, Donald E. Giddings, Austin Grehan, Matthew Hoffman, James Horan, Michael Gough, Michael Lagrimas,  Robert W. Laur, Peter Maloney, Tim Martin, Gavyn Michaels, Donald Moore, Ken O'Malley, Christian Reeve, Mik Scriba, and Philip Sokoloff.


Set design: Jeff Rack. Lighting design: Peter Strauss. Sound Design: Reid Woodbury Jr. Costumes: Kelly Fluker.


Director Tim Byron Owen is a founding member and former board president of The Celtic Arts Center Theater. He directed workshop and developed the acclaimed "Runt" with Michael Philip Edwards, which won a Fringe First at the Edinburgh Festival.  Tim also helmed the international hit "A Night In November," staring Marty Maguire, at the Celtic Arts Center and the Falcon Theatre, in Los Angeles.   Was nominated for two Ovation Awards (Best Play and Best Performance), earned an L.A. Drama Critics Circle Award for Best Performance and in 2002 Best Production at the Edinburgh Fringe Festival.  In 2002 played two sold out runs at London's Tricycle Theatre as well as sold out runs at the Gaiety and the Liberty Theater Hall in Dublin. Also, was a hit at the Irish Arts Center Off-Broadway in New York, being held over for a 3 month run in Boston.  Owen founded the Sarah Fulton Group with Nick Cassavetes, which has produced multiple plays and two films, the Emmy-winning "Where's Jo?" and "A Far Cry From a Distant Land." Tim directed "Fighting Words," about Welsh boxer Johnny Owen, which ran twice at the Celtic Arts Center and also the European premier at the Wales Millennium Center in Cardiff.  Tim won a Best Short Film for the Matchstick Man promo at the DGA (Directors Guild Awards) in 2006, and is working on the feature film.

Playwright Ray Bradbury has won many national and international literary awards and remains one of the most popular writers of modern times, with over 30 books and 600 short stories to his credit, as well as numerous plays produced over a span of 44 years, some of them produced under his own banner, Ray Bradbury's Pandemonium Theatre Company. Its recent "Fahrenheit 451" at Fremont Centre Theatre became L.A.'s second-longest running show (behind "Wicked"). Acclaimed as a master of science fiction, he refers to himself as a writer of fantasy. His newest book, "We'll Always Have Paris," is set for publication on January 14, 2009.